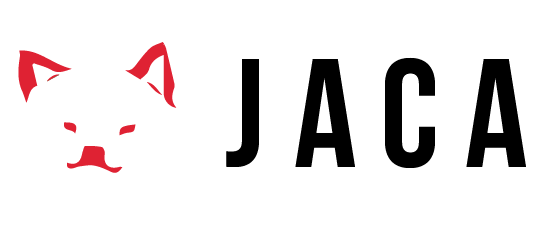 Mission Statement
It is the purpose of the Japanese Akita Club of America, Inc. (JACA) to preserve the purity of the Japanese Akita and to educate the public about the breed. JACA pursues this commitment by engaging in activities which aid, promote, and foster the preservation and betterment of purebred Akitas.
JACA is a U.S.-based non-profit charitable 501(c)(3) organization recognized as the Japanese Akita breed parent club by the United Kennel Club (UKC) and World Union of Akita Club (WUAC).
Code of Ethics
These guidelines are in accordance with the objectives of the Japanese Akita Club of America, Inc. (JACA), and are set forth to protect and advance the interest of our breed by maintaining high breeding standards. The JACA underwrites these standards and encourages all breeders to abide by them.
A member in good standing is considered one who:
Abides by the constitution and by-laws of the Japanese Akita Club of America (JACA).
Maintains the best possible standards of canine health, cleanliness and veterinary care, and provides facilities for excellent pre-natal and post-natal care of the dam and the puppies, and will, in addition, maintain these high-quality standards for any dog that he/she owns.
Breeds Japanese Akitas only to other Japanese Akitas. A Japanese Akita is defined. by the following criteria: (a) all ancestors in a three-generation pedigree are registered with the Japanese Kennel Club and/or Akita Inu Hozonkai as a Japanese Akita or trace all their ancestry back to such dogs OR (b) all ancestors in a three-generation pedigree were registered as a Japanese Akita within a registry created by an FCI Kennel Club since their recognition in October 1998 , the Kennel Club (UK) since 2006, the United Kennel Club since 2012, OR (c) it has a three-generation pedigree which is a combination of the above, provided all eight great-grandparents are either as specified in (a) or (b).
Maintains accurate breeding records, registration paper, and pedigrees, furnishing each purchaser with proper registration or transfer papers unless written agreement is made at the time of sale that the papers are to be withheld.
Makes sure that all services and sales arrangements are mutually agreed upon, stated in writing, and signed by all parties involved.
Keeps all advertising honest and in no way intentionally misleading, fraudulent, or misrepresentative.
Learns and understands the standard of the Japanese Akita and breeds with the intention of conforming to it.
Breeds only with the intention of improving the breed, and finding suitable, carefully screened, safe, and loving homes for the puppies.
Chooses only healthy, registered parents of excellent temperament and qualities, X-rayed and eye-examined, resulting in certifications from OFA or PennHip and CERF, doing everything possible to prevent the passing on of devastating genetic defects.
Refuses to breed a stud dog or brood bitch to any animal which is not registered or is markedly inferior physically or temperamentally.
Files an "Intent to Breed" (ITB) form* which shall be sent to the Club secretary (or designee) no later than 5 days prior to a planned breeding. Should a change to the original, planned breeding occur, a revised ITB shall be submitted immediately, and absolutely no later than 24 hours after the breeding has taken place. Included in the revised ITB shall be a statement explaining the circumstances that necessitated the change. The Breeder will also send to the Club secretary (or designee), if requested, a photo or digital print of the tie during breeding.
Breeds only mature bitches, preferably over two years of age, skipping a season between most litters. Breeds males, preferably over sixteen months old.
Does not sell or consign Japanese Akitas (or any other breeds) to pet shops or other commercial dealers, nor does he/she breed his/her animals to their animals.
Is as selective in breeding his/her stud dog as he/she is in breeding his/her brood bitch.
Does not donate Japanese Akitas for raffles or auctions.
Honestly evaluates the quality of the Japanese Akita to be sold, and fairly represents that evaluation.
Either spays/neuters or sells while withholding papers, all pets which, for any reason, may not be qualified to be used for breeding. All registration papers will be withheld until such time as the dog is re-evaluated to determine quality. If the final determination is that of pet quality, no registration papers of any sort will be provided until such time as the owner can provide proof that the dog has been spayed/neutered, after which time papers for limited UKC or AKC registration may be provided. Such proof must be in the form of a letter or certificate from a veterinarian, and the letter or certificate must include either a microchip or tattoo number for the animal in question.
Acknowledges that he/she is responsible for any dog he/she has bred for its entire lifetime, and makes written arrangements for its return to him/her at any time the purchaser no longer wishes to keep it.
Does not release puppies to new homes before they are at least eight weeks of age and have been properly socialized.
Furnishes complete details on feeding, general care, medical inoculations, grooming, pedigree, etc.
Insists in writing that the purchaser have the puppy checked by a veterinarian within 72 hours of sale, making clear that if the puppy is found to be unfit, it must be returned for either replacement or refund of purchase price.
Does all in his/her power to protect and advance the breed and to encourage sportsmanlike conduct, good will, and camaraderie amongst the members of the Club, and at dog shows, obedience trials, public educational appearances, etc.
Tries to assist the serious novice in his/her understanding of the breed.
Follows up on all puppies and adults after the sale to ensure their continued care, and to encourage the owners to become involved in purebred dog activities.
Conducts himself/herself at all times in a manner as to reflect credit upon himself/herself, the sport of purebred dogs, the Japanese Akita and JACA in particular.
Pays annual membership dues.
Accepts that the breeder/owner is responsible for the co-owner's actions and will be held to all articles of the JACA code of ethics.
*The ITB is intended to be used as a tool to insure and aid that a planned breeding produces the best possible results. By sending the ITB, any known factors, be they complimentary or negative can be acknowledged before the actual mating occurs.
Club History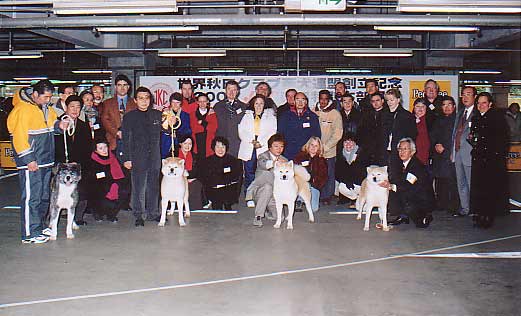 History of the Japanese Akita Club of America
In the mid-1990s, the debate in North America on whether or not to split the Akita breed was raging over Internet forums, e-mail lists, at ringside and just about every other place Akita fanciers might gather; it was bitter and there was no solution in sight. Lines were drawn between the pro-split side and the anti-split side.
IT STARTED WITH A TRIP TO JAPAN
In April of 1997, Akita breeders Pat Szymanski of Akasta Akitas, Ben Herrera of Kobun Akitas and Jim Sjoberg of Hyozan Akitas attended an Akita-inu Hozonkai (AKIHO) Headquarters show in Odate, Japan, where they spoke to well-known and respected AKIHO judges and breeders. In addition, they were able to observe for themselves over 200 Japanese Akitas at one show. These Japanese Akitas were, in fact, very different from the majority of Akitas commonly available in North America. It became obvious to these breeders from the US that in the course of development over previous decades when the AKC closed the stud book, the Akita had indeed become two separate breeds: the Japanese and the American. This situation was not taken lightly by the Szymanskis (Pat and Rich), Herreras (Ben and Melanie) and Sjobergs (Jim and Carol) as they all had experience with both American Akitas and Japanese Akitas and had struggled with the split issue themselves. But with the irrefutable evidence in front of them and with the knowledge that the Japan Kennel Club (JKC) preferred to split the breed internationally, they knew they had to respect the breed's country of origin.
Shortly after their return to the US, the Sjobergs and Szymanskis sat around Pat's kitchen table in a suburb of Houston and called the Herreras, who were then living in Southern California. They had "the talk" which would ultimately result in the formation of North America's first club dedicated to the Japanese Akita outside of AKIHO's North American Branch, which was established in 1970. It must be noted that AKIHO, the oldest Akita breed club in the world, operates independently and is not affiliated with any other national or international registry or kennel club.
After much more discussion with other friends in both the Japanese Akita and American Akita fancies, they decided to make a commitment to work towards the split, to breed only Japanese Akitas and to improve and preserve the breed as set forth by the country of origin, Japan. Little did they know the separation of the Japanese Akita and American Akita as two individual breeds in most of the rest of the world would happen so soon after their trip to AKIHO Headquarters and that the World Union of Akita Clubs (WUAC) would soon be formed.
JACA IS FOUNDED
Internationally, various individuals of the Japanese Akita fancy stated that the breed would need a representative club in the United States, and there was a growing worry that the AKC would stall the split on behalf of a particularly vocal group within the Akita Club of America (ACA), the breed parent club. In fact, as of this publishing in 2017, the AKC continues to be one of only two kennel clubs in the world that does not recognize two distinct Akita breeds.
And so, in May of 1997, with encouragement from board members of the JKC, AKIHO HQ in Odate, AKIHO North American Branch, and Japanese Akita clubs in Europe, the Japanese Akita Club of America, Inc. (JACA), was founded by the Szymanskis, the Herreras, the Sjobergs, Cindy and Jim Hicks, Mike and Laurie Shannen, Frances Connor, Akira Miyabayashi and Hope Yoneshige. Also, it is important to note that several members of the ACA believed in preserving both breeds as separate, so among JACA's first members were breeders and owners of American Akitas.
JACA'S ROLE TODAY
Since our formation in a country whose main national kennel club still does not recognize two breeds, JACA's role as the parent club in the international Japanese Akita fancy has spoken volumes. JACA was the ONLY Akita club from the United States to be invited by the JKC to participate in their very first Akita Judges' Special Seminar held in Tokyo in January of 2001. The delegates from JACA enjoyed meeting Akita judges from around the world and the seminar itself proved very educational and informative on a variety of subjects. We have also been a consistent presence at the World Akita Conferences held by WUAC and maintain great working relationships and friendships with our counterparts in Japan, Europe and Latin America.
Although JACA has held conformation shows for the breed since 1998, most often in conjunction with the AKIHO Los Angeles Branch, it wasn't until 2012 when the inevitable would happen. The United Kennel Club (UKC) recognized the Japanese Akita and designated JACA as the parent club of the breed in the US. Under the auspices of the UKC, anyone with a registered purebred Japanese Akita is able to compete in UKC conformation shows across the US and Canada, while JACA has hosted Specialty shows in previous years and more currently hosts an annual Invitational show in Southern California.
Over the years, JACA has proudly retained its close ties to the JKC, AKIHO and WUAC. We have also had the privilege of being designated as the representative club for the breed in America by many Japanese Akita clubs overseas. In fact, our membership has spanned across several continents as our international friends support our efforts here in the US. Moreover, we continue to enjoy the camaraderie of members who are devoted to their American Akitas, for they too wish to preserve their own breed.
With the exception of the AKC and CKC in North America, every other national kennel club has designated the American Akita and the Japanese Akita as two distinct breeds. The membership of JACA is committed to splitting the breed and to obtaining recognition for the Japanese Akita as a separate breed in the United States. But first and foremost, we dedicate ourselves to improving and preserving the Japanese Akita.
Japanese Akita Club of America Contact Directory
General Inquiries
For club business and general inquiries from non-members, our secretary may be e-mailed at info@akita-inu.com.
JACA Cares
If you represent a rescue organization that deals specifically with Japanese Akitas and wish to learn more about our JACA Cares program, write to us at rescue@akita-inu.com. (Please keep in mind, we do not pull, foster or place dogs; we leave that to the rescue experts).
JACA Regional Reps
JACA Regional Reps are members kind enough to volunteer their time and energy to organize official events and informal activities in their respective areas. Some events are held in conjunction with AKIHO North America.
Southern California and Southwest US (So. Cal, Hawaii, Nevada, Arizona and New Mexico): Hope@akita-inu.com or Sean@akita-inu.com 
Northern California: NorCal@akita-inu.com
Pacific Northwest and NW US (Washington, Oregon, BC; Montana, Idaho, Wyoming, Utah and Colorado): PNW@akita-inu.com
The Republic of Texas and Southern Central US (Texas, Lousiana, Oklahoma, Arkansas, Missouri and Kansas): Julia@akita-inu.com
Northern Central US (North Dakota, South Dakota, Nebraska, Minnesota and Iowa): NoCentral@akita-inu.com
Northeast US (New York, PA, New Jersey, Delaware, Maryland, Virginia and the New England States): Northeast@akita-inu.com
Great Lakes US (Wisconsin, Illinois, Indiana, Michigan, Ohio, West Virginia and Kentucky): Jodie@akita-inu.com
Southeast US (North Carolina, South Carolina, Tennessee, Georgia, Alabama, Mississippi and Florida): Southeast@akita-inu.com
Please be advised that even if your state is listed below, it does not mean JACA members exist or events are held in your state though someday that very well may be the case!
Outreach, Media & Public Relations
Breeders
If you're in search of a responsible breeder, please have a look at our Breeders Directory page which contains listings for JACA-member kennels and their contact information.
JACA Facebook Page
You can also message us on our public Facebook page. All current JACA Members have access to a separate members-only Facebook group.
Interested in joining JACA?
JACA members are pet owners, breeders, show and competition dog owners, newbies and veterans.
$35/year for individual membership
$45/year for family membership
One year of free membership for individuals who adopt a Japanese Akita from a rescue!